Affaire de Coeur (2016)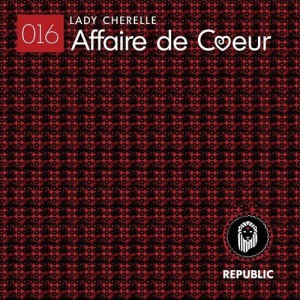 Republic's sixteenth release, and its first in more than a year, is an extra-strong one that will grab lots of attention this fall from fans of the deep. DJ-producer-vocalist Lady Cherelle, a member of New York's SOUP collective and a 20-year veteran of both the East and West Coast underground scenes, makes her Republic debut with a scintillating three-track burst of melody, soul and true-school energy. The Affaire de Couer EP's trio of tracks are complex tech-deep constructions with wicked basslines, haunting keyboards and strings, and evocative melodies, each one topped by Cherelle's own sultry vocals. Fans of Maya Jane Coles, Virginia or Nina Kraviz will be captivated by Cherelle's fresh contribution to this style; but fans of '90s house will also recognise the likes of Dubtribe and Everything but the Girl in its influences. "Strong Enough" is marked by sinister Detroit-style electro keyboards and funky hand percussion offsetting Cherelle's vocals that put one in mind of classic Inner City. "So in Love" works a similar vein, with an outrageously melodic old-school vibraphone, funky breakbeats and insistent high-hats enhancing the mix. "Just Let Go" hits harder with a huge kick, rubbery bassline, epic strings and swirling echoes for an intense vibe that will turn a peaktime floor into a mass of energy. All in all the Affaire de Coeuer EP is one from the heart, a lush, steamy affair that will make for a tantalizing weapon in the quivers of deep selectors with taste.
BUY ON BEATPORT • BUY ON TRAXSOURCE
Selekta Rewind (2012)
Selekta Rewind features a compilation of sweet grooves from some of the label's talented artists, including DJ Dennis, Freedom Hill, Lady Cherelle, Mr. Sol, Max Paparella, Statedlife, and many more. Lady Cherelle's "in the Music" is just one of the many tracks that represent the vibrant soul of Selekta Recordings.
Slide Down (2011)
Lady Cherelle's 2011 release on Selekta Recordings features unique and flavorful downtempo tracks that will take you on a musical journey. A mixture of sexy, funky, and, deep grooves, Slide Down reveals another dimension of Lady Cherelle's love of music.
Selekta Lounge Volume One (2009)
This compilation by Selekta Recordings features beautiful soulful and downtempo tracks from the label's talented artists. Lady Cherelle's contribution to this album includes "Lost in the City " and "Breathe Me In " will also be part of her upcoming downtempo album due for release in Summer 2011. She is honored to have been featured with her fellow Selekta producers in this creative endeavor.
"Selekta Lounge Vol 1 … Smooth smokey late night soul and down temp beats from Philadelphia Selekta Records. Dennis and friends like Lady Cherelle, Cantos, Clayton & Fulcrum, Mr Sol & Freedom Hills dive deep in to the roots of great music and with Philly as their base you can just feel the vibe they are trying to achieve. Quality beats ready to set memories in your soul.. Defiantly a release the will ripple in to the cd players / ipod / of many cafe's & bars worldwide, a journey through soul beats, uplifting rhythms, lush vocal tracks that are kept fresh with intelligent electronica bound tightly to it's heart beat… Would expect to see a nice variation of Radio / Club DJ… wanting to feature this in their sets…" – Monster Session
Living in Rhythm (2009)
Lady Cherelle's debut album on Philadelphia-based music label Selekta Recordings features 11 original house and breakbeat tracks with a remix by internationally renowned producer and DJ Rick Preston. The variety of sounds and vocals created by Lady Cherelle reveal the complexity and diversity of her musical styles. The album is available directly from Selekta Recordings and on iTunes, Amazon, Beat Port, Stompy, Traxsource, Primal Records, and many other music stores online.